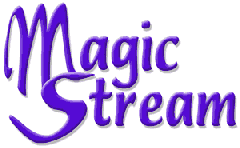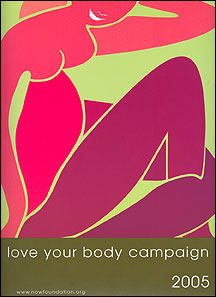 Diana Fabre, 2005
Inspired by Blue Nude, by Henri Matisse

Eating Disorders:
News:

Love Your Body Day -- By Regina Garson, Editor.
Loving your body is not just about beauty and size. It is about taking care of the body that you have.
---
---
---
Online Resources:
---
Eating Disorders Awareness and Prevention, Inc.
Eating Disorders In A Disordered Culture -- A a visual expression of the experience of eating disorders.
Eating Disorder Referral And Information Center -- International eating disorder referral organization.
Fat Acceptance FAQ
Healthy Body Image -- My mission is to help people gain control over their eating, learn to nurture their body and attain optimum health and fitness.
Helping Hands -- By teenagers and youth, for teenagers and youth.
International Size Acceptance Association -- ISAA.
Males And Eating Disorders
Mirror, Mirror -- "Mirror, mirror on the wall, who's the fattest one of all?" Eating disorder shared awareness site.
Obesity/Weight Control -- Eating Disorders and Related Medical Conditions.
Overcoming Overeating Home Page -- Includes a list of therapists familiar with the issues.
Overeaters Anonymous, Inc. -- World Service Office (WSO). OA's World Service Office is the corporate office of Overeaters Anonymous, Inc., serving the OA Fellowship worldwide.
Serotonin and Eating Disorders
Something Fishy's Eating Disorders Site
Do Your Shopping At
-- The Store --
At Magic Stream


---
Drop A Line
Say Hello
Tell Someone You Care
Send a Free E-Card

Dedicated to all those travelers
who share in the one journey
that can never be made alone



---
---
Regina Garson, Editor
garson@hiwaay.net


Copyright © 1995 - 2004 Regina Pickett Garson
All writings, graphics and scripts are copyright by the individual authors. Nothing on this site may be reproduced without permission of the individual authors.


No claims are made as to the reliability of any of the information provided or linked, sources often disagree. None of these pages are meant to be a replacement for professional help, but a resource that enables one to be a more intelligent consumer. You can learn a lot by becoming aware of different opinions. Don't be afraid to ask questions when it comes to your health, physical or emotional.