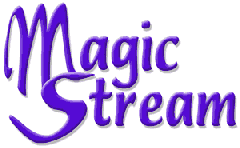 ---
Fitness:
Strong mind, strong body.
---
Let's Move -- Across the US, childhood obesity has reached epidemic rates and, as a result, for the first time in our nation's history, our children may live shorter lives than their parents. Obesity has been recognized as a problem for decades, but efforts to address this crisis to date have been insufficient. Our First Lady, Michelle Obama has taken on a nationwide initiative to get us all moving, and instill better health habits in the next generation. The bottom line is, we need to get moving. Magic Stream fully supports this effort. Join our First Lady, our community leaders, teachers, doctors, nurses, moms and dads in a nationwide campaign to tackle the challenge of childhood obesity. Letís Move has an ambitious but important goal: to solve the epidemic of childhood obesity within a generation. This one is going to take us all, let's join Mrs. Obama in this effort. We will all feel better for it. Regina Garson, Magic Stream Publisher.
---
The Top 7 Fitness Mistakes Just About Everybody Makes
By Dr. Frank B. Smoot, MA, DD. GHF's Success Coach
-- You'd really love to be fit as a fiddle, but you just can't seem to make it happen. Too much weight, too little energy, too much flab, too little tone. "Been there and done that," here's some help to get you back on track.
Diets Don't Work... -- By Chad Tackett.
We Don't Fail Diets; They Fail Us! Dieting can help us lose weight (fat, muscle, and water) in the short term but is so unnatural and so unrealistic that it can never become a lifestyle that we can live with, let alone enjoy!
Staying Motivated -- Do you know you need to exercise, but find staying motivated is the hardest part? Here are some tips from Chad Tackett, President of Global Health and Fitness (GHF).
Exercise Helps Keep Your Psyche Fit -- Research shows exercise to be a viable, cost-effective treatment for depression and may help in the treatment of other mental disorders.
---
Web Resources and Links
Deskercise -- Stuck at a desk all day, starving for some exercise to keep you going. Try these deskercises from Inteli-Health, Johns-Hopkins Online Health Resource.
The Fitness Partner Connection Jumpsite! - The most comprehensive source of information for fitness, health and nutrition available on the Web.
Five Tibetan Rites -- Some call it the "real fountain of youth," the Five Tibetan Rites is a system of exercises reported to be more than 2,500 years old. They were were first publicized by Peter Kelder in a 1939 publication entitled The Eye of Revelation. Whether or not they are the fountain of youth, they are an interesting series of yoga based exercises. The stories that go with it are also kind of interesting.
-- The Ancient Secret of the Fountain of Youth or The Eye of Revelation -- By Peter Kelder. This is a free downloadable PDF of the book. It has been annotated with diagrams that show how to do the exercises. You will need an Adobe Reader to view the file. That is also available as a free download.
Global Health and Fitness -- Your on-line guide to healthy living and optimal fitness.
Internal Wonders of Energy -- By Waiman Lok.
A work in progress, according to Lok, "Internal martial art is qi gong, the accumulation and exercise of internal energy. The progress of practice surrounds qi, but the word qi has many interpretations which have confused a lot of learners and brought about contradiction in its recognition. Misunderstandings must be clarified. Apprehension of the profound yet abstract concept is essential to ensure progress along the right track towards a foundation for further advancement."
LiveStrong.org -- A licensing partner of the Lance Armstrong Foundation, LiveStrong.org, provides support for and broadens awareness of the Foundation's mission to provide services for people affected by cancer. The site is not cancer specific, but has much health and fitness related information to contribute to an overall healthy lifestyle.
Mayo Clinic.com -- Exercise planner, geared to your fitness level.
Qi Gong -- (Chi Kung)
Yang Style Tai Chi -- Good site. Extensive resources.
Yan Xin Qigong
---
Vitamins and Supplements
Kalyx.com -- Herbs, Foods, Supplements, Bath & Body
The Vitamin Shoppe - More Brands, More Savings, More Service - Click Here for 20,000 products from 400 brands
---
Also See:
Nutrition Information and Resources
The Spa Guide
---
---

Dedicated to all those travelers
who share in the one journey
that can never be made alone



Copyright © 1995 - 2011 Regina Pickett Garson
All writings, graphics and scripts are copyright by the individual authors. Nothing on this site may be reproduced without permission of the individual authors.

No claims are made as to the reliability of any of the information provided or linked, sources often disagree. None of these pages are meant to be a replacement for professional help, but a resource that enables one to be a more intelligent consumer. You can learn a lot by becoming aware of different opinions. Don't be afraid to ask questions when it comes to your health, physical or emotional.


Regina Garson, Publisher
garson@hiwaay.net