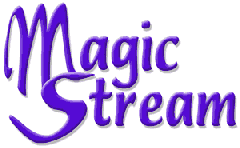 Home At Last
Lee, James
Buy this Art Print at AllPosters.com


Magic Stream Memberships:
Join the group at the Blog,
There is no charge to participate.
---
Sign up for our free newsletter.
---
Support Magic Stream.
You can help. As a labor of love, Magic Stream has been online since 1995. Delivering access to well over a million readers, Magic Stream provides a wide spectrum of self-help information. You can assist our initiative in supporting the ongoing research and development of this site by making us your homebase for online shopping. Simply go to The Store at Magic Stream and bookmark it, or put it in your favorites. Check there first when you have an online shopping need. Online and off, you can find all your favorite retailers there and some new ones as well. Check it out.
---
Check back soon for other membership options.





Dedicated to all those travelers
who share in the one journey
that can never be made alone







Regina Garson, Editor
garson@hiwaay.net


Copyright © 1995 - 2004 Regina Pickett Garson
All writings, graphics and scripts are copyright by the individual authors. Nothing on this site may be reproduced without permission of the individual authors.


No claims are made as to the reliability of any of the information provided or linked, sources often disagree. None of these pages are meant to be a replacement for professional help, but a resource that enables one to be a more intelligent consumer. You can learn a lot by becoming aware of different opinions. Don't be afraid to ask questions when it comes to your health, physical or emotional.